Today, Mexigoalie and I got to go get our free (well, it cost us the price of our season tickets being paid by August 19) jerseys and had the opportunity to select one of four player groups to autograph it. 
Group 1:  Mike Modano, Stu Barnes, Phillipe Boucher (wasn't there…broke his finger in the game last night), Jaroslav Svoboda, and Stephane Robidas 
Group 2:  Bill Guerin, Jere Lehtinen, Martin Skoula, Nathan Perrott, and Trevor Daley
Group 3:  Marty Turco, Sergei Zubov, Niko Kapanen, Steve Ott, and Johan Hedberg
Group 4:  Brenden Morrow, Jason Arnott, Antti Miettinen, Jussi Jokinen, Jon Klemm
Contrary to popular assumptions, I did not elect to get group 1.  Since I already had Modano's autograph on my Mo home (green) jersey, I wanted to get some of the others to sign my new away (white) jersey. 
We got there early and so weren't too far back in the check-in line.  We picked up our jerseys and Mexigoalie and I chose Group 4.  Some friends of ours that were there also decided they just wanted their jerseys and would worry about autographs another day.  So they gave us their tickets for Group 3.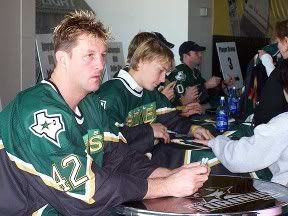 In the first line, I didn't have the guts to say much other than, "Thank you," to the players.  I don't know why I can't talk.  Mostly I just don't want to sound like an idiot, plus I can never think of anything original to say.  And after about 50 people before me and several hundred to follow, I figure they've heard it all.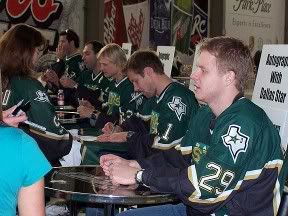 By the time we got up to the players in Group 3, I had a little more nerve built up.  But said mostly stupid lame dumb girl things like, "That's a cool watch," or "Great game last night."  Ugh.  Mexigoalie asked Zubov if his heart was in his throat when he took that penalty in OT and left the team short-handed.  Zubov said, "No, I wasn't worried."  Then paused a beat and added, "Yes!"  and we all laughed about that.
Then, because the lines were moving pretty smoothly, we were told they would let us in line for the other groups as well, even though we didn't have tickets for those.
We went and got in group 2's line, since it was the shorter of the two remaining.  Got through there pretty quickly and made our way to the Modano line of group 1.  That's were our good fortune ended.  They wouldn't let anyone else into that line without a ticket because there were still quite a few people waiting and only about 30 minutes left of the event.  So the only glances I got at my Mikey were through a glass window.
Oh well, I'm not complaining.  We both managed to get a jersey signed by the entire team, minus 5 players.  We'll just have to catch a practice or other event sometime to get those last few. 
How cool is this??  Now I have something to wear when I catch my first 2 Stars road games in a few months!!  I'm (FINALLY) going to go visit my oldest brother, Dilbert, and his family in San Diego at the end of March.  So I've worked it out so that I will get to see them play in Anaheim and Los Angeles while I'm there!  Can't wait!!  Although, my brother is already threatening to make me sit by myself at the games, since he knows I will be cheering (loudly) for the visiting team!