This week's assignment (brought to you by Random and Odd):

Your Yearbook (any year)

The person who made life hell for you.

The person you still talk to.
 One of you blogger types tell her I played, ok?  For some reason it's not allowing me to comment over there.  Mean blogger.  😛

So, it would appear that I do not have a single yearbook from high school.  I know I got screwed out of my senior yearbook (thanks, Mrs I'll-Get-You-One-For-Planning-Junior-Prom) but apparently I don't have any other ones either.  Either my brother , Duckie, has them all, or they are still stacked on a bookshelf somewhere at my parents' house.  So, no yearbook pic for me.  EDIT:  Well crap.  I found 2 of them after I posted this.  If I get good and motivated, I'll add a pic here later.
Person who made life hell for me:  Would have to by my junior high / highschool sweetheart, and I use the term loosely, because, while we did date off and on (mostly on) from 7th grade until after graduation, he was no angel.  It's funny how a lot of my best and my worst memories of school involve him. 

Here we are in 8th grade.  Anyone remember those Rude Dog shirts?  LOL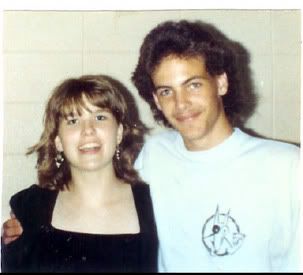 And at my Senior Prom.  Check out his mullet and my big hair!  We broke up, for the last time, about 3 months later but kept "in touch" (insert evil grin) for almost another 6 months.  He was my first love.  Years later, I would become friends with his (now ex) wife and mother of his twin boys!  Hearing her stories confirmed that I did the right thing.  He hadn't changed a bit.  Still playing the same old games.  I hear he is remarried now.  Here's hoping he's finally settled down and happy.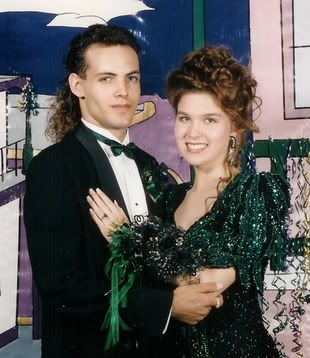 Person I still talk to:  There's quite a few actually, so I'll just pick 3.  Two girls I went to school with (MommyK and MrsDrillTeam) ended up living in the same area as me, so we try to get together when we can.  Of course, they are both married and one of them just had her first child, so those get togethers are further and further apart these days.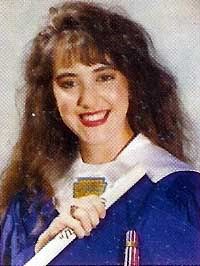 And more recently, at our 10-year reunion with their hubbies: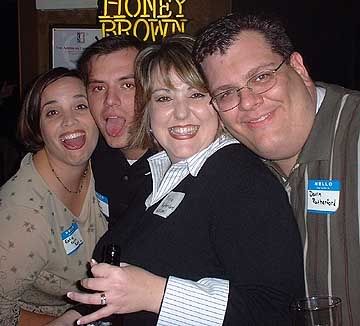 And another, that I don't talk to as often as I'd like, but always make it a point to go see her when I head south.  One of my very best friends from school, let's call her Barbie, because she's pretty and skinny and blonde. 
 It's amazing we ever became friends in the first place.  I met her in 7th grade and we couldn't have been more opposite of each other.  I was the bad girl, she was the wide-eyed innocent new kid.  My how times have changed!  Here's us one night at our 10-year reunion:

I miss you, Barbie.  Come visit soon, please!