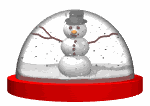 Birthday was good.  Week was crazy, as expected.  And I feel like a stranger on my own blog.  I meant to atleast do an entry after my bday shindig.  Given the amount of alcohol consumed, that could've been entertaining.  Oh well. 
'm heading to the parents' tomorrow morning.  Probably won't be online from there much either.  Unless I go to my brother's and use his DSL.  My parents just have dialup and it is too painful to use.  It's not even standard dialup speed.  It's like 26k or something.  And it suuuuuucks.
I'll have to play catchup (both posting and reading) when I get back.
Hope everyone has a very merry Christmas!