The Stars opened the new, I mean MY NHL, season against the Kings tonight (last night, whatever).  HOLY CRAP.  What a game!  After a miserable first period and being booed off the ice (not by yours truly, but I didn't cheer them either), our boys fought back from being down 4-0 and gave the fans at the AAC a real treat!  The house really was a rockin'. 
"To wait 18 months and come out like that in the first and give the fans that, I felt this big coming off the ice," Boucher said, holding his finger and thumb close. "We deserved to be booed, but when we came back, they got right back into it. They played a role in the comeback, that's for sure."  – from DMN
Arnott, Zubov (twice), Guerin, and Boucher all scored to get the Stars in the game, keep them there, and finish off the Kings.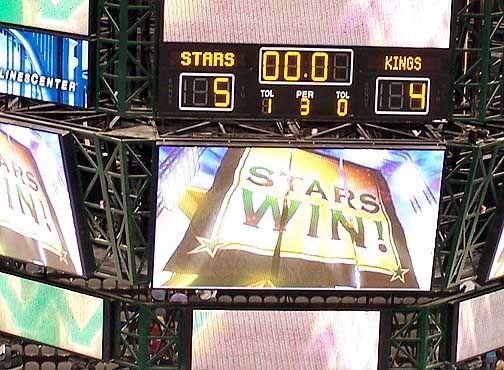 After a little post-game celebration at the Old No 7, my alarm is going to be going off way too soon.   But Wheeeeeee!  What a night!!!